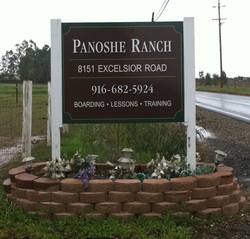 Welcome to Panoshe Ranch!
Panoshe Ranch is a premiere 10 acre ranch in Sacramento, CA offering boarding and training for your equine partner and lessons for people of all ages. Please learn more about us
here
.
Panoshe Ranch
8151 Excelsior Road
Sacramento, CA 95829
(916) 682-5924
Follow us on Facebook!
Click here for our page
.
Upcoming events:
Dressage & Western Dressage Schooling Shows
Show dates are April 8th
May 6th
August 19th
October 14th
All Shows are WDDA approved.
*All show days begin at 8:00 am
Past Events:
Future Events:
Wendy Rhea Dressage Clinic March 3, 2018
"There is something about the outside of a horse that is good for the inside of a man." Winston Churchill
---