Michelle Canfield-Wynbrandt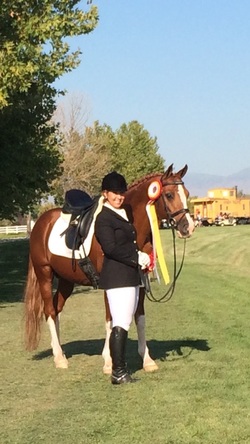 Michelle began riding at about the age of 2, on a springy horse in her backyard. Horses have always been a part of her life even when she didn't own one.
Michelle began teaching and training in 1992. She soon became the go to person for childrens lessons in the area. Michelle has a strong background in psychology and early childhood developement which she uses to teach her students.
Michelle has developed numerous riders who have gone on to win Multiple National and Regional wins. The horses she has trained have also won Regional and National titles.
In 2008 Michelle took a step away from her life as a riding instructor and trainer. Now she is back and better than ever.
Michelle's specialty is Dressage but has trained horses and riders in Hunters, Western and almost every other discipline.
The lesson horses at Panoshe Ranch are AMAZING!!!! They are extremely well loved and cared for and it shows in the way they do their jobs. Our lesson horses include several retired show horses and search and rescue horses. We also have horses that are currently on the show circuit for more advance riders.
Michelle teaches all levels and ages of riders. It is never to early or to late to learn to ride.

Lessons prices:
45 minute Private $55 or purchase 5 at a time for $250
45 minute Group $45 or purchase 5 at a time for $200

Training Rates start at $700 a month including board. The number of training horses accepted is limited.









---